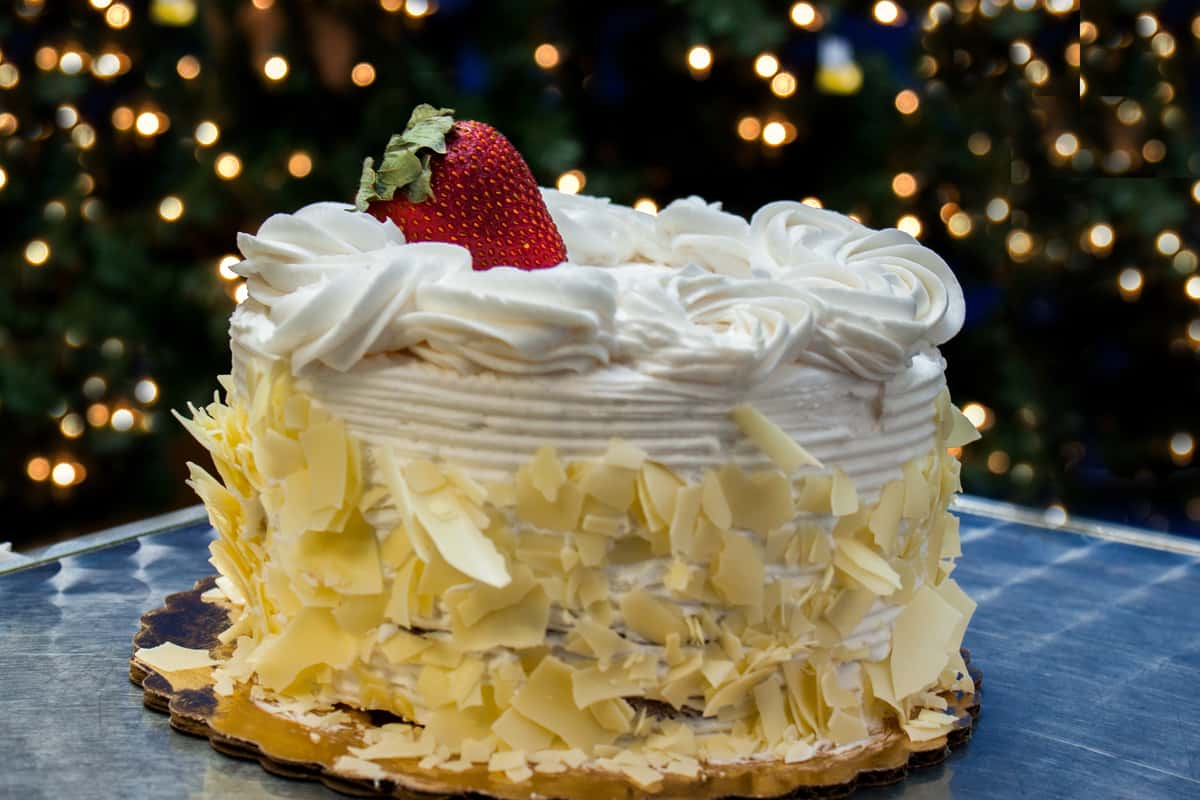 Custom Cakes
Become a VIP
Receive updates on special events, new menu items, menu reviews, and more!
Custom Cakes
Custom Cake Pricing
Base prices reflect a single-tier cake with one frosting of up to 3 colors

6" Layer Cake (6 - 8 servings) $20.00
8" Layer Cake (14 - 28 servings) $35.00
10" Layer Cake (21 - 42 servings) $ 52.50
½ Sheet (48 - 96 servings) $72.00 
Full Sheet (96 - 192 servings) $144.00 

Serving sizes assume 2" x 2" party slices to 1" x 2" wedding slices

*Additional charges:

Delivery + $25 within 30 miles (longer distances incur charge of $1.00 per mile RT)
Tiered cakes + $5.00 per tier
Fondant covering + $30.00 per cake
Gumpaste Flowers + $12.50 per stem
Fondant decor/sculpting + $20.00 per hour
Cake Flavors
CAKE
Chocolate, Vanilla, Orange, Lemon, Funfetti, Red Velvet, Hazelnut, Almond, Graham Cracker, Strawberry, and Chocolate Chip.
FROSTINGS
We use only pure butter in our frostings, and offer both American and Italian Buttercreams in a wide variety of flavors, as well as Cream Cheese Icing . and Whipped Cream Icing.
American Buttercream - a blend of butter, confectionery sugar, and cream that can be flavored with any chocolate, fruit, or extract.
Italian Buttercream - The King of buttercreams: meringue cooked with sugar syrup and then blended with butter. Italian buttercream is lighter and not as sweet as American buttercream, has a silkier texture, and offers unparalleled stability in summer cakes. For these reasons, this frosting is our go-to for all special order and wedding cakes. Similarly, this frosting is easily flavored with any chocolate, fruit, or extract.
Cream Cheese Icing - Cream cheese, stabilized with butter and sweetened with confectionery sugar. This frosting is classically paired with red velvet and carrot cakes, but is not recommended for outdoor summer parties or events where the cake will sit at room temperature for an hour or more. Please keep all cakes iced in cream cheese icing refrigerated.
Whipped Cream Icing - Lightly sweetened, whipped heavy cream flavored with vanilla. It's used to ice Italian Rum cakes, Black Forest cakes, and pairs great with fresh fruit and flavored pastry creams. Cakes iced in whipped cream must be kept in the refrigerator.
FILLINGS
Fruit Preserves - Apricot, Raspberry, Strawberry
Fruit Compotes - Apple, Strawberry, Cherry, Blueberry, and Blackberry
Curds - Lemon, Key lime, Orange
Creams - Almond, Banana, Cannoli, Chocolate, Hazelnut, Peanut butter, Rum, Vanilla
Ganaches - Milk Chocolate, Dark Chocolate, White Chocolate.
Mousses - Dark Chocolate, White Chocolate, Strawberry, Raspberry, Blueberry, Blackberry.
*Fresh fruit and cheesecake filling is available. Priced on seasonal availability. *
*All of our specialty cakes can be decorated for special occasions. When placing your order be sure to let us know how you would like your cake decorated! Special orders require 3-days notice minimum. *